As a simple intro to zero waste cutting, we first made an origami Burberry jacket from a single sheet of paper, cutting and folding it into shape. We then moved on to the more complicated task of making a t-shirt out from a pattern by Holly McQuillan, which I found hard to do, as her instructions were very basic and it wasn't clear what patterns meant what, but with the help of my partner, we eventually got it. Then we had to manipulate a second t-shirt we made in a certain way to create a new silhouette for the T-shirt. We had to change the shape of the arms and shoulder, which we thought we had done successfully but, we had not! Everyone else workes out but, we couldn't get our head around ours. I tried to do it a second time, and it still turned out wrong! Even though this particular T-shirt pattern was hard to follow, zero waste cutting is a great way to fully use all of the fabric and even make multiple garments out of one length of fabric. One of the only drawbacks with zero-waste cutting is that you can be restricted with colour if you are only using one piece of fabric, although you can print your material in a way that allows for different colours and patterns on different parts of the pattern. Still, this method can be pretty complicated, and it's not viable for the home sewer.
Holly McQuillan
Holly McQuillan is a fashion designer who specialises in zero-waste fashion design, with a focus on issues such as transition design and the impact of technology on already established design practices. She has written a book about zero waste fashion with Timo Rissanen called Zero Waste Fashion Design and a second edition is in the works. McQuillan has also co-curated an exhibition with Rissanen focusing on zero waste cutting called Yield: Making fashion without making waste and has developed the open-source zero waste resource Make/Use. When looking at all of the sources she has created for zero waste fashion, you can see that McQuillan is very passionate about the technique and wants to change the way people and designers think about pattern cutting. Her collection of patterns for Make/Use are all stylish and wearable, and she has designed the patterns in such a way that some garments can have the pattern screen printed on the fabric, which doubles up as a print for the garment. Zero waste cutting is a great way to stop fabric wastage and keep it out of the landfill. This technique is also more economical, as brands use up all of the fabric they buy with no leftover scraps, and you can fit several garments on one length.
Timo Rissanen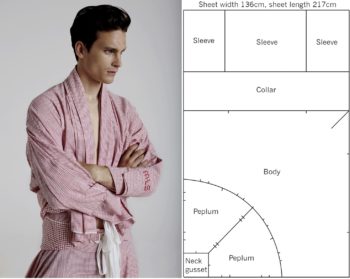 Timo Rissanen is an educator, artist and designer from Finland. As well as curating an exhibit and publishing books with McQuillan, he has also done the same with fashion design researcher Alison Gwilt, co-curating Fashioning Now and co-publishing Shaping Sustainable Fashion. The pictures are from his collaboration with McQuillan exploring zero-waste pattern cutting.