Using some of our naturally dyed samples from the last lesson, we made a hexagonal patchwork sample. I used fabrics that I thought had a similar colour palette. I used my favourite sample, a mix of rust and onion skins, as the starting sample and then used two other samples which were similar colours, my sunflowers seed sample and beetroot sample. I cut out hexagons from the areas with the most interest, especially from my rust sample. The patchwork technique is easy and relaxing to do once you have got the hang of it, and you can make quite a few hexagons once you get going. I made 15 hexagons, then lay them in a pleasing pattern before starting to sew them together. I made sure to lay them out so that none of the same colours was touching, so it wasn't jarring to the viewer. I sewed them together using a whip stitch, which you can still see on the right side, but I think it gives it a more handmade feel which is usually associated with patchwork anyway. I think if I had pulled very tightly when stitching them together, the threads would not be visible, and I may try that in the future. I think the outcome is effective, and I can see it working on a larger scale or using the patchwork technique to use up the scraps created by my other samples from this project.
Jo budd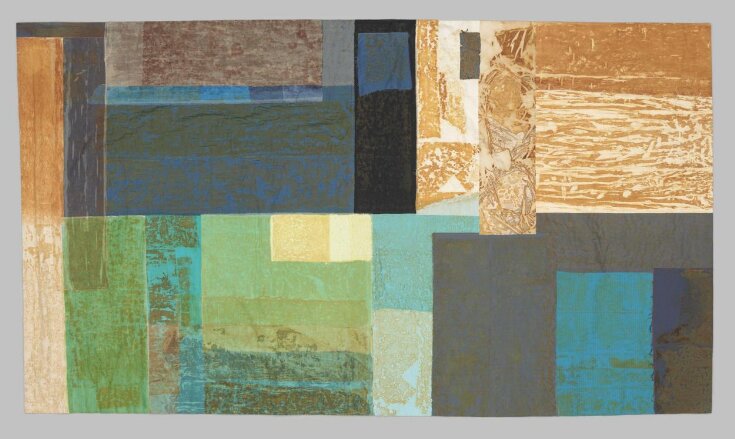 Joe Budd is a leading contemporary British textile artist whose work crosses boundaries between Fine Art, Textiles, Quiltmaking and Embroidery. She is inspired by the seasons and genders and the colours that come with them. When making her pieces, she uses fabric that she has hand-dyed and painted on to, which adds texture and depth to her work. Budd likes to focus on the "dualities that exist in us all" and "the emotive aspects of colour". The use of colour in her work is effective, as from far away, you can only see the colour of the fabric pieces, and the tones used are very harmonious and give the viewer a sense of calm.
As you can see, my samples did not grow enough in time to use them properly. In groups, we used all of our grown samples to pin on a mannequin and see what the cress could look like as one garment like Aroussiak Gabrielian. I love the different textures everyone got from the different placements of the seeds and if they used their shibori samples, the pouches of cress that the dips created. I love the garden feel the mismatched samples give, and I want to use this in my final piece, possibly using a variety of edible greens, taking inspiration from Gabrielian.
Aroussiak Gabrielian
Aroussiak Gabrielian is a speculative designer with training in architecture, landscape architecture, and media arts. She is currently an Assistant Professor at the University of Southern California and has founded a design agency. Her work focuses on the intersection of new cinematic media and the design of the built environment. The 'wearable garden' tops shown above were created as a part of her design project posthuman habits, which tried to get people thinking about the future of food production and waste. It is watered from the wearers bodily waste, which includes urine and sweat. Although she made this to be uncomfortable and show the extremes we might have to go to to save us and the environment, I think the concept is effective, and fashion designers such as Paula Ulargui have shown that creating wearable, fashionable versions of this is possible. What makes Gabrielians design unappealing is the use of urine and sweat to water the garden, but there are alternatives, such as rainwater, which make the system more appealing.