Before starting to draw, I put a wash of tea over my paper to give a warm background. Inspired by Mackintosh, I started my drawing off with a rough circle. I then started to draw my object, which was a Lily. I tried to use clear, confident lines when drawing, as I wanted the form to be bold and striking like mackintoshes' work. I kept loose when drawing, not bothering too much if it wasn't entirely accurate. Once I had the outline down, I then started to add in washes of colour, beginning with the leaves that were a darker green. I tested out the various colours I mixed on the side of my paper to check I had the correct shade. I then added in the lighter greens, purposefully leaving some leaves and the stem of the Lily without colour to reflect mackintoshes work. At this stage, I also added more lines to the flowers and the bud to add more definition and structure to them and give the whole piece a more 3D feel instead of it laying flat on the page. I slowly added colour to the rest of the composition, leaving the watercolours to dry before adding more layers. I think this outcome is effective as the colour palette I have used works well with the wash of tea I put down at the start, and it reflects the influence that mackintoshes work had.
For my second drawing, I used an onion and dried seed pods as my forms to switch up the kind of objects I could use. I found this second drawing easier to draw, as I had loosened up from the first drawing and was more able to draw freely. It took longer than my first drawing as I had to draw the many seed pods on the plant I had chosen. I loved mixing up the deep marrons and ruddy browns for the onion, and I think the result is effective and adds lots of texture to the piece. I made sure to add the dark patches of seeds into the pods, and I found that some had a lot of mottled splotches on them, so I made sure to include them. If I was to go back into this piece, I would add more depth to the seed pods, as they look flat when compared to the onion.
Charles Rennie Mackintosh
Charles Rennie Mackintosh was a Scottish architect, designer, watercolourist and artist. He was very influential in the European Art Nouveau movement and was a significant figure in the British Art Nouveau movement. His main influences were the industrial revolution around him in his home town of Glasgow and the new Asian style coming from Japan. Mackintosh loved the simple forms and natural materials used in Japanese design and mixed this with Art Nouveau influences to create unique pieces of furniture. You can also see this Japanese influence in his drawings, using simple shapes to communicate the object he was drawing and using light washes of colour. I think the way he leaves some areas of his sketches plain is effective, as it allows you to look at the form of the object and draws the eye to the various points of colour, really making you study the drawing in front of you. His watercolours also read like an architectural drawing, showing the precise layout of a flower or plant with straight, accurate lines and adding splashes of colour to show what it could look like when seen in real life.
Elizabeth Blackadder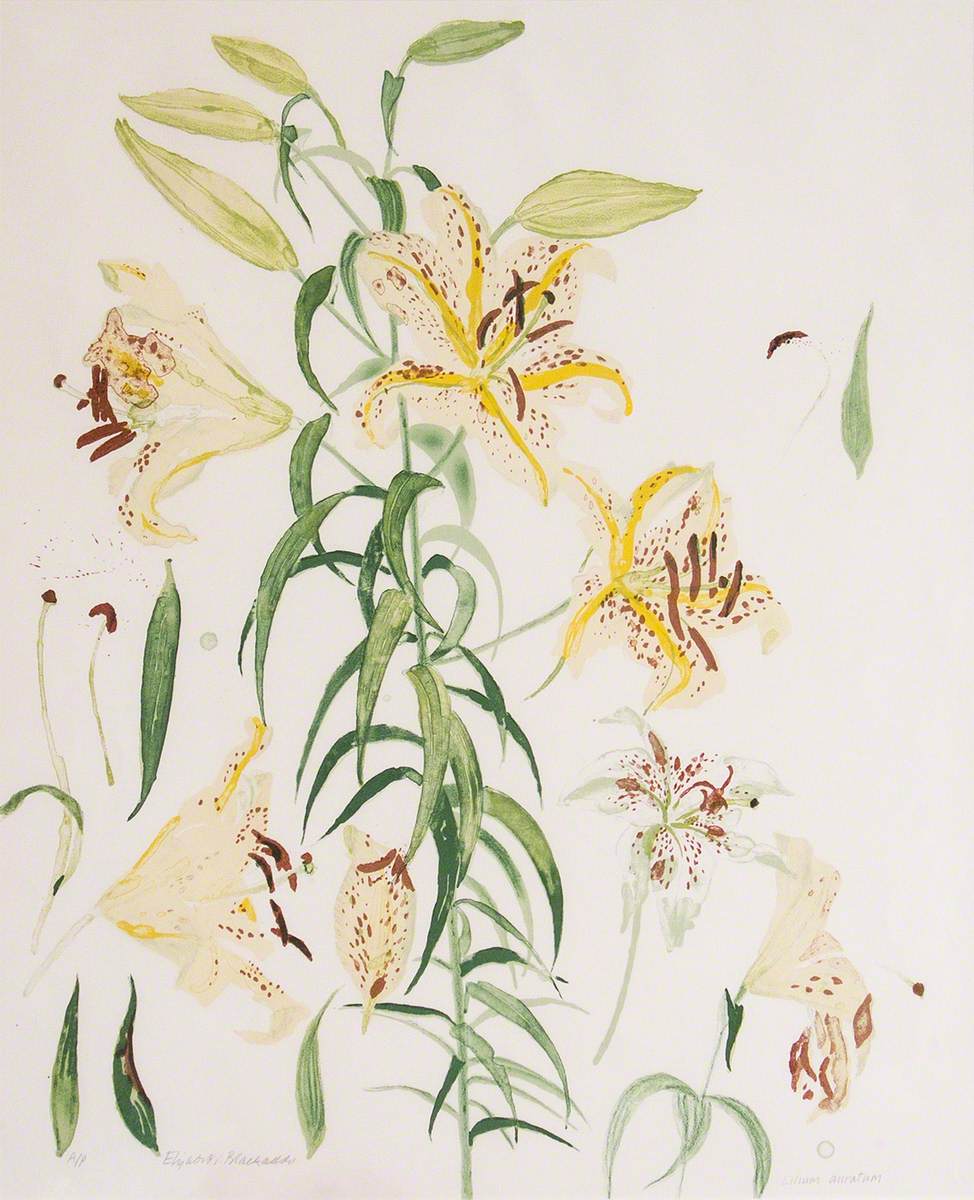 Elizabeth Blackadder was a Scottish painter and printmaker. She is best known for her detailed and sensitive drawings of flowers and tabletop compositions using oriental objects and her cats. Like Mackintosh, Blackadder was also influenced by Japan, which can be seen in her landscapes as well as some of the objects used in her still life series. In contrast to Mackintoshes work, Blackadder only uses paint to depict her subjects, which produces a much softer and delicate outcome. The way she has painted the Lily is so sensitive to the form, and the use of watercolour helps convey this. The colour palette and brush strokes used are also effective, as the strong brush strokes and dark colour of the leaves show how they are more robust than the delicately painted petals.