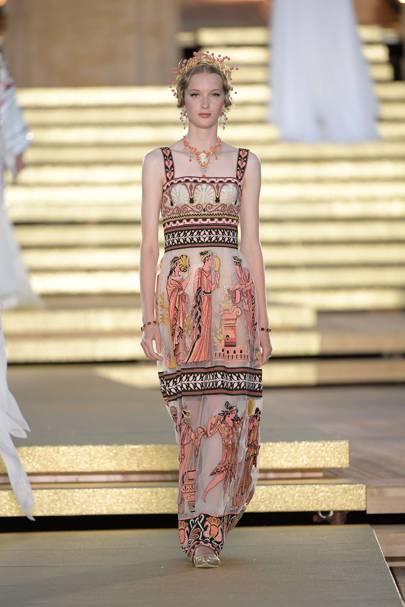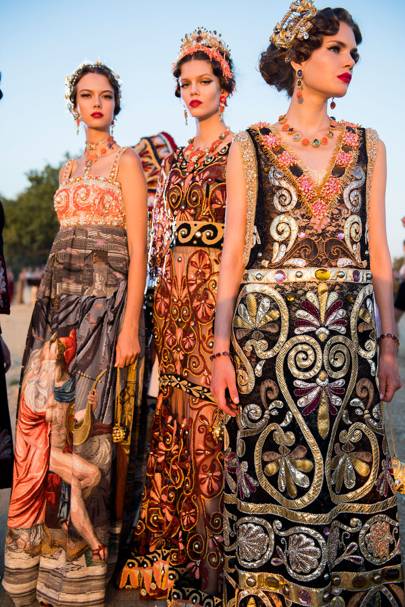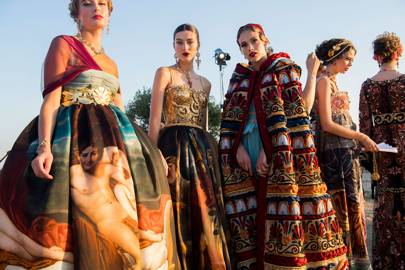 The A/W collection by Dolce and Gabbana is inspired by their Italian home town of sicilys Ancient Greek roots.The pair presented their collection in the Temple of Concordia, named each dress after a Greek muse and took inspiration from them, from the armour of Athena to the crossbow of Diana.
"Pottery motifs and meander patterns materialised on dresses in delicate needle-punch embroidery on translucent tulle or lace, in beaded appliqué on a dress with sleeves shaped like ceramic vases, rendered entirely in sequins on cocktail dresses, or on a mink cape constructed in intarsia. A section of gowns paid homage to the Grecian goddess silhouette in peplos architecturally composed from plissé panels, while fringe – the most ancient idea of surface decoration – was interpreted all over a dress in micro-beaded frills that rustled like metal tinsel, and feather work was evoked exclusively through intricate, super-dimensional embroidery that resembled plumage"
This extract from the Vogue article about the collection perfectly describes the beautiful pieces of this collection. Each of the pieces looks Grecian, and they are all so delicate and well thought out it is impossible not to be awestruck by them. They also used paintings of the gods and goddesses in their designs, transferring them onto the skirts of gowns. I love that they haven't just focused on the toga elements of the ancient Greeks and have instead focused on the patterns and symbols in the architecture and the pottery, creating very decadent and unique pieces. Each piece is so complicated and this links in with the theme of order and chaos as each piece in Dolce and Gabbana's collection has so many elements and pattern, it could be seen as chaotic, but they bring it together in such a way that it makes perfect sense.
Safety:
Iron- When I was ironing on the bondaweb I was careful not to get burnt so I kept my hands away from the hot part.
Needle- I was aware of my needle at all times so I wouldn't accidentally stab myself or someone else with the needle. I was also careful not too poke myself with the needle whilst sewing
I created a sample inspired by Dolce and Gabannas use of Ancient Greek pottery in their designs. I had to paint the fabric I was going to use first as I didn't have the colours I wanted. I ironed on bondaweb to the back of the black fabric, so that I could cut out the shapes I wanted an stick them to the terracotta piece. I cut out the bigger shapes, and embroidered the finer details. If I have time I want to add fabric to represent cracks in the pot to give the sample a more chaotic feel and to tie the sample into the theme.