step-by-step instructions:
Fill vessel of choice with water-you could use a jar, cup or jug
Set up camera on a tripod if you are using one, and focus the camera
Put the camera on a timer and start pouring ink or paint into the vessel, or get a friend to pour in the ink while you take pictures
Rinse out the vessel before you try again.
For the pictures I started off using a plastic jug as it was quite big and gave the ink time to drop and move. I used some left over dye from a tie-dye kit as my ink, and started off using a tripod to take photos. I found that using the tripod didn't allow me to focus my phone properly before taking the photos so they where not as clear as they should be, so I asked my mum to pour the ink so I could focus the camera and take photos. I then saw that you could see my refection so i switched to using a glass jar. The jar photos are a lot crisper and the dye has spread in a shape that looks like a jellyfish. I think it is hard to take good photos of this kind of media unless you are in a photography studio, or had access to the right equipment.
Stretch and challenge
I found the stretch and challenge task much easier to photograph than the ink in water, as I was just photographing the surface of the milk. I used water colours for these photos. I really love the effect that the watercolour and milk create, as the milk acts as a blank canvas for the colour. I played around with dripping the paint in and flicking it onto the milk to see the different patterns it would create.
Alberto Seveso
Seveso is an illustrator & Digital Photographer, who was born in Milan, but is now working and living in Bristol as a freelancer. His passion for graphic art started when he was young and was really fascinated by the graphics of skate decks and the CD covers of metal bands in the early 90s. I love the vibrancy of his photos and how he mixes two or three different coloured inks at once, and they intertwine in the water.
Draping
I found it hard to emulate the swirling and billowing patterns of the ink in water, but I tried to use pleats and layered pinning to replicate the shapes the ink created. For some of my draping I used extra fabric to create big, full areas similar to the way the ink falls in big, then small drops in the water.
Fredrik Tjaerandsen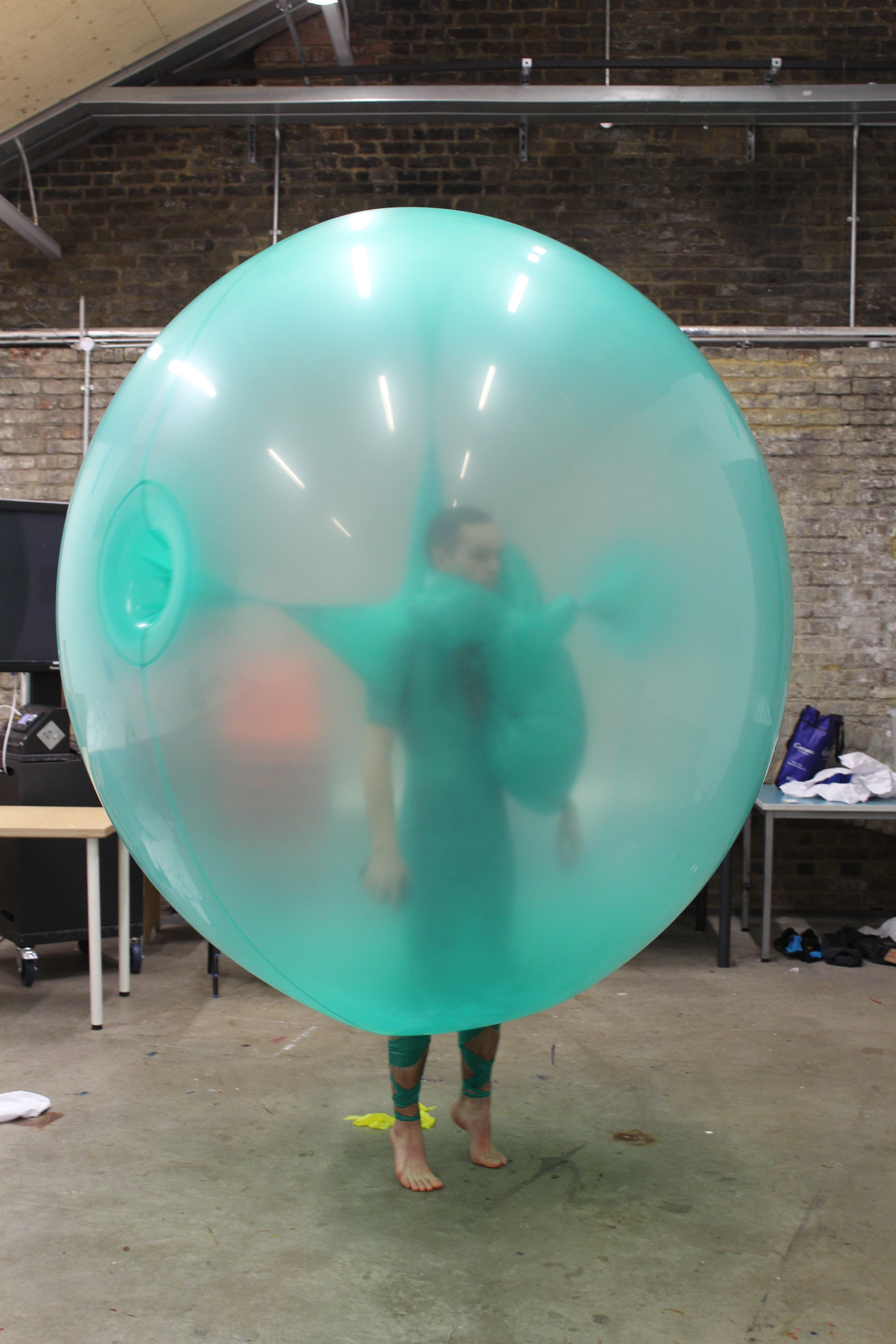 Tjærandsen is a visual artist and designer from Bodø, Norway. He studied Fashion at Central Saint Martins, graduating with a First Class BA (Hons) in May 2019 having been awarded a Les Visionnaire scholarship. While studying he worked at top design houses Louis Vuitton and Balenciaga in Paris. This collection is made entirely from biodegradable natural rubber latex. I love that the dress has two possibilities, one in its inflated form, and the other in its deflated form. You can imagine the first being worn down he red carpet, and then being deflated to wear at the party.
"I was inspired by my own early childhood memories. I wanted to recreate the fogginess and the 'mist' of the memories themselves. The inflated bubbles are about being able to wear an unclear memory. When the bubble emerges onto the catwalk, it's the dream. The deflation of the bubble visualises the moment when we realise we have a consciousness."